ABOUT US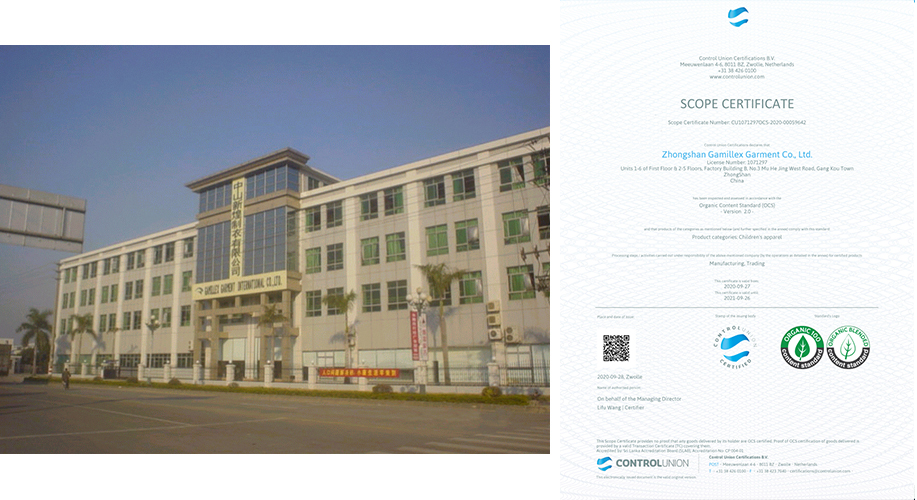 Company History
1987
Gamillex Company Limited, Head Office, was incorporated in Hong Kong as a trading company
1993
Company established Gamillex Fashion Factory in Zhongshan, PRC to provide competitive prices, better quality, and punctual delivery.
1996
To expand the business in China market, company established Zhongshan Link Pacific Garment Company Limited in Zhongshan, PRC.
2001
Because of the quality control is one of our mission, Company established Gamillex Inspection Centre in Zhongshan, PRC.
2005
Zhongshan Link Pacific Garment Company Limited passed the ISO9001:2000 (Reg. No. 03405Q10248ROM) and SA8000:2001 (Reg. No. 01114056657) to achieve the international standard.
The validity of the ISO certificate can be checked under http://www.bhxcc.com.cn type in our factory's Chinese name (中山轩辉服装有限公司).
The validity of the SA certificate can be checked under http://www.tuvdotcom.com by type in our factory's English name (Zhongshan Link Pacific Garment Co., Ltd.).
2007
To increase the competitive advantage, Company established Zhongshan Gamillex Garment Company Limited with Printing Section in Zhongshan, PRC. We owns THREE sets of automatic textile screen printing machine and 300 meters of printing table.
2011
Develop special production line for 18G Knit & Sew for high-grade level brand.
2018
Open Embroidery section
2020
Passed OCS (Organic Content Standard)
Our President
Gamillex Group is founded by a Japanese, Mr. Akira Nambu, who has accumulated over 40 years of experience in children's wear manufacturing. He is constantly searching for an innovation and more efficient ways to enhance company product quality and capabilities. He had dealt with oversea customers for more than 20 years before he start his own business. It is strengthen his ability of understanding the different culture needs and strive to exceed customer expectation.
In Year 2008, Mr. Nambu Masahide became the President of Gamillex Group. Mr. Nambu Masahide, who joined Gamillex over 20 years. He went onto manage the sales portfolios, production and operations of the group.
PRODUCTION INFORMATION
Product Lines:
Infants & Children's Wear: 60% (cut & sewn 70%, woven 30%)
Men's & Ladies': 40%
Current Principle Customer:
Disney, Fanatics, I.T., Joules, Jacadi, New Balance, Nippon Steel Trading, VF Group, etc.
Proportion of Business:
Japan Market: 30%
EU / USA Market: 50%
China Market: 20%
Factory Background:
Production Capacity:
150,000 pcs in knit, 30,000 pcs in woven per month
Capacity:
200 styles up per month
Total Employees:
500 persons
Provide Services:
100% non-formaldehyde factory
100% needle checking system
100% garment inspection system (double checking in Inspection Centre)
Laboratory testing
Computerize in merchandising, marker making and grading system
Japanese technicians, translators and merchandisers supporting

Printing Section
Specialized in textile allover print, placement print including:
Pigment print, discharge print, bubble print, embossing, glitter print, golden foil print, flocking, washing proof rubber print, iron-on diamonds, etc.